Get Your License!
Details

Category: Community Service
Published: Saturday, February 29 2020 09:31
Written by Administrator
Hits: 2147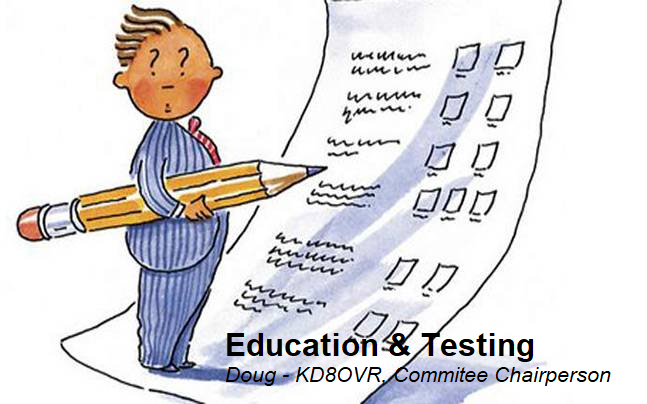 Doug - KD8OVR, Committee Chair
Are you interested in getting your Ham Radio license?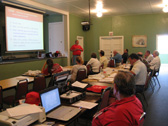 The Marinette & Menominee Amateur Radio Club can help!  We offer classes to help you learn everything you need to get started! We usually hold a class in March, but if there are a number of interested people at other times of the year we would certainly consider doing more.
Our classes usually run 1 night a week for 4 weeks, with the Exam on the 4th week. We offer free study material online, along with some great youtube videos which will prep you for class material.
Register for our classes or for your license by filling out one of the forms below, and we'll be in touch when our next test or VE test session.
Our training committee Chairman and VE Examiner Lead is KD8OVR - Doug Dooley. Doug is an Extra Class Operator and serves in many capacities in our club.  He's a great teacher!
Resources for your Technician License
No Nonsense Tech Study Guide by KB6NU
Tech Study PowerPoint by - K9STT
 Online Registration
Technician Class Outline
Amateur Radio
Technician Prep Class
Class Outline
Week 1 Introduction
Electrical Principles
Electronic Principles and Components
Radio Wave Characteristics
Week 2 Antennas and Feedlines
Amateur Radio Signals
Electrical Safety
Amateur Radio Practices and Station Setup
Week 3 Station Equipment
Operating Procedures
FCC Rules
Week 4 Exam
NoNonsense Technician Study Guide – Free PDF version https://www.kb6nu.com/study-guides/
A key element in preparing for the actual exam is taking as many practice exams as you can. Make sure the practice exam is based upon the July 2018 to June 2022 question pool. Here are some practice exam resources:
https://www.nc4fb.org/wordpress/technician-2018-2022-self-study-program/
https://hamcestry.com/exams/home/8/
Here are some YouTube videos of a technician ham class you may want to view if you miss a session of want further information – search YouTube for Technician Ham Class September 2018 Chapters 1-9:
https://www.youtube.com/watch?v=4BU0WGP0U5Q
https://www.youtube.com/watch?v=JfC2Lfn08Kc
https://www.youtube.com/watch?v=ihWKZGptKsE
https://www.youtube.com/watch?v=U41nM1u77uA
https://www.youtube.com/watch?v=VIbYMbwYgTE
https://www.youtube.com/watch?v=tUqfczS0pf8
https://www.youtube.com/watch?v=0n8Es8Bhidk
https://www.youtube.com/watch?v=iTTIqB0DcnI
https://www.youtube.com/watch?v=yGhhde9TF7Y